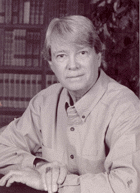 Writer Larry Dean Hamilton reviews...

Christopher Hubble's
Lord Given Lovers

Larry Dean Hamilton holds a Bachelor of Arts in English Literature from The University of Texas at Austin. Previously on the editorial staff of Time-Life Books, Larry was a key organizer and participant in Houston Gay Conference 1982. He led the way in establishing and organizing Matagorda County AIDS Awareness. Larry, a sometime poet, treks along a sandy shore, mindful of accumulated litter and debris—mindful of earlier footsteps. Larry's other books, besides

A Gathering of Angels

(page 6), include three books of poetry
Hotel Chelsea and the Sound, Late Autumn Debris
, and
Love is Orange.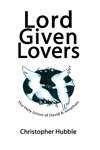 Lord Given Lovers
by
Christopher Hubble
iUniverse, Oct 2003
Paper 96 pages
$12.95
ISBN 0-595-29869-9

Jonathan Loved David...and David exceeded [1 Samuel 20:41 KJV]

"We love with passion, and we love with great majesty. That is our beauty and our magnificence." What an exhilarating thought!

The Biblical account of Jonathan and David, related in 1, 2 Samuel in the Old Testament, fires the imagination with drama and passion. It is a story of intrigue, of loyalty and betrayal, of emotion and love—a story of death and of loss. What stirs within the modern breast are those same qualities—human needs and human desires. That the story of Jonathan and David compels the human spirit in remarkable ways is attested to by a wealth and variety of commentary widely available. Christopher Hubble, in Lord Given Lovers, adds yet another plate onto the table.



Lord Given Lovers

displays an "intimate Biblical relationship between two men that had a sexual component and that is also described as a covenant relationship involving the 'binding' of two souls." Hubble observes, "Jonathan fell in love with David. David and Jonathan were...joined in a marriage covenant...holy union...same-sex coupling." He uses the story as a vehicle to show that "same-sex love is normal and acceptable," and to show "same-sex marriage as a spiritual, human, or civil right—and (to) justify that argument theologically."

Hubble contrasts the "intrinsic divinity of homosexuality [the "H" word!]" with the widespread notion that "[the "H" word!]1 violates the laws of God," stating that the Bible specifically and affirmatively addresses same-sex love. He asserts, "A redefined cultural and societal understanding of [the "H" word!] derived from, and supported theologically by the Bible, will have a profound impact..." He further addresses, "The Bible is the primary weapon...to justify...continued intolerance, prejudice, and bigotry."

I admit I had to pluck from the cupboard a version or two of the O.T. and refresh my memory. The story of Jonathan and David reflects from childhood Sunday School lessons—one of those loving and lovely Bible stories, almost-told, not-quite-deciphered, that touched the harp strings of an innocent young boy, languishing on a path to distant gay horizons. Jonathan and David, a tender story of great passion that quickened the pulse of a late-teen's awareness that men could love one another; Jonathan and David, is a banner story of strength and perseverance, that enlarged the vision of a young gay man moving beyond liberation into a ripening gay sense of self. Jonathan and David has it all—a story of our gay needs and strengths, our gay vision and creativity, our gay losses, our gay triumphs.

Jonathan loved David. What more can I ask? That simple statement sang to me in the sunny silence and wonder of childhood. Its lyric truth has remained in my breast through many seasons. It is infallible, a testament to God's infinite love. "One who does not love does not know God's love, for God is love." [1 John 4:8] Hubble writes of "our most Godly instinct—the instinct to bond lovingly, and intimately with another human being." He asserts, "God loves us unconditionally, immeasurably, and infinitely."

To what larger purpose can be served by the assertion that Jonathan's and David's love is proof of same-sex holy marriage? In view of widespread evidence that most "marriages" today are anything but holy, I for one would not impose a modern failure on the O.T. lovers. Jonathan's and David's love encompassed loyalty and commitment—to one another! Jonathan displays selfless giving, a wholesale act of devotion leading to, in Hubble's words, "collapse of boundaries and deflation of the ego." He states, "The need to care for and nurture those individuals and communities that are important to us is one of the most intrinsic human needs." The real meat is brought out and placed on the table: "Commitment is the bedrock that creates stability in relationships."

"Our real dilemma is a spiritual one. Coming out...is a spiritual experience...we are reborn." Hubble impresses on his reader that dignity and self-respect come from full acceptance of oneself. Living closeted is living a lie—in effect, a true sin. He points to our separation from true human community. This writer will append to that separation from the community of God's loving embrace. We are a God question, not a political one—God has answered that question!



Lord Given Lovers

is a short tract, designed for study sessions, although it can be read as a single piece. Inclusion of some discussion, relative to societal and cultural attitudes of the time with specific emphasis on same-sex relationships, could have broadened Hubble's scope. The work gives pause for reflection. A reader is encouraged to approach the Bible with fresh eyes. Bringing to bear on Scripture our special sensitivity and awareness can only extend the Bible's reach.

Lord Given Lovers

should find a place in study groups, especially among youth-oriented groups and organizations. Moreover, it should be required reading of all mainstream religious and church study programs.

There are yet untapped riches in the story of Jonathan's and David's love for one another. We as gay men and women with unique spirituality must explore ways to seize as our own the Bible, ways that will cast it from the hands of those who use it as a weapon against us. Surely, God must say to them, Not in My Name! Jonathan and David is one such gay resource. Hubble may continue to expand the story. I will anticipate future feasts at such banquets.

Readers may find of additional interest, among other reading:
"Jonathan and David," by The Rev. Harry Scott Coverston,
www.leeellis.com/jonathandavid.html

"The Gay 1090s B.C.–Were David and Jonathan Gay Lovers?" by James Patrick Holding, www.tektonics.org/gaydavid.html

"David and Jonathan," Rainbow Alliance, http://rainbowallianceopenfaith.homestead.com/GayLove3.html
and "King David 3–David and Jonathan," by Robert Hamerton-Kelly, www.wvchurch.org/sermons01/07080123.htm

Larry Dean Hamilton
SigmaΣLogo™ Books

1 The "H" word is of medical/clinical construct, used in the arsenal of homophobia. Historically, the word has been used to denigrate persons of same-sex affection/attraction. It insinuates a case history, an illness and a crime and has no redemptive value connoting pride, integrity and worth. In this writer's estimation, the "H" word has no place in a queer-positive vocabulary.