Warning:


As many of you who visit Palomas may know, by now, for the past several months of 2008, there has been a lot of regrettable violence in Mexico and along the US/Mexican border due to what this writer understands is a territorial dispute over the illegal drug traffickers in Mexico. You are urged to be extremely careful in Palomas, as a result. Those of us who love Palomas and its people hope that the town may soon return to the charming, friendly town we know it to be.


Palomas, Chih., Mexico—a town in flux



To provide new information to the writer of this page, especially about doctors, dentists, optometrists, retail stores, unique products, or interesting facts, please contact Ron Donaghe.
If you are traveling to Mexico, you cannot do better than this information filled site: Mexico Travels. Contact email.

One of my favorite stores in Palomas, and one that I return to again and again, known in Spanish as "La Tienda Rosa" is also called "The Pink Store." Here is their website. Even though it says no visas or passports needed, take one anyway.
Southwestern New Mexico might seem an unlikely place for a very significant piece of American history. In the early morning hours of March 9, 1916, Columbus, New Mexico, was invaded by guerillas of the Mexican Revolution under General Francisco "Pancho" Villa. This act is significant because it is the only place in the United States that was invaded by a foreign power in the 20th Century and, to this day, remains with that distinction.

Just added: A bookstore on New Mexico and Mexico History & Literature.

The town of Columbus is now a sleepy village and lies just five miles north of the US/Mexican border. Just on the other side of the border lies the town of Palomas. In comparison to Columbus it is both much larger and more prosperous. But Palomas is a town in flux. Citizens of the United States visit this Mexican town everyday, for the same reason that Americans go into Canada—to buy prescription drugs. There are, in fact, five farmacias (pharmacies) operating in Palomas, along with eye doctors and dentists.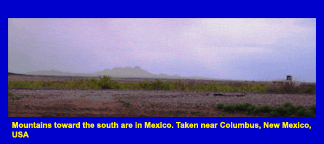 As one travels down the highway from Deming, New Mexico, 30 miles north of Columbus, one can see a distant mountain range in Mexico. It was a rainy day when this picture was taken so the landscape is not only barren, but overcast. Click on this picture to get a closer view. Very soon, however, after passing through Columbus, one comes to the US/Mexican border. On the US side is a multi-million dollar port of entry, but on the Mexican side is a port of entry that hasn't really changed that much since I was a teenager. Back then we did not go to Palomas for prescription drugs, but went to shop for leather purses carved and decorated by Mexican craftsmen. Saturday nights were very dangerous along the highway between Deming and Palomas, because Americans also went to Palomas to go to the cantinas (Pete's Place and other less lively joints).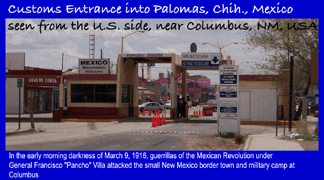 Today two issues prompt much more care be taken when crossing the border, even in a remote location like this one. Even here, post-9/11 security is heightened, and searches are conducted regularly by drug-sniffing dogs. It wasn't always like that, as when members of my family went back and forth across the border as if a border didn't exist.


Other changes have come to Palomas, because these changes have come to Mexico. I mentioned prosperity. And it is true. Although to an American eye, the unpaved streets of Palomas, the older cars, the beggars, and even the buildings themselves remind one that you are entering a third-world country, where anything labor-intensive is ridiculously cheap, and anything high-tech is expensive.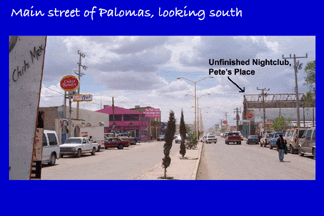 The main street in Palomas has recently been paved and street lights and even new evergreen trees have been planted in the medians—significant signs of prosperity, in comparison to just a few years ago, and upon closer proximity, one can see building going on, even on the side streets. The new Pete's Place still under construction is ambitious, and the building is bigger than the main church that sits just off the town plaza. I'll take you there in a moment.

Update: December 2006. Another reader contributes to the recent impact of new illegal immigration enforcement on the town's "prosperity. Read the Albuquerque Journal article.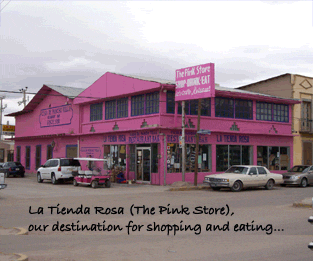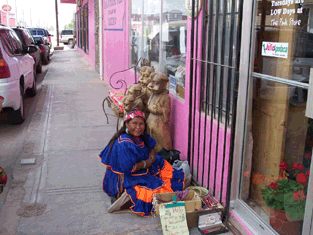 Now this may sound odd, but one sign of the new prosperity is the better conditions of some of the beggars (Read the update to the right). For example, the interior of Mexico and the State of Chihuahua has driven the noble and beautiful Tarahumara Indians far from their traditional homelands. I don't know when they came to this extreme northern part of Mexico, but I do recall that only a few years ago, I began encountering Tarahumara women outside the farmacias and other shops, like La Tienda Rosa (the Pink Store), dressed in dirty clothing and looking rather beaten. One particular woman has been in front of one of the shops for well over a year, keeping herself busy with trinket-making of some sort, and of course asking for the usual handout. Yes she is industrious (by third-world standards), maybe. I asked if I could take her picture, paid her for the privilege. As you can see she is not dressed in rags, but in what I suspect is traditional garb.

One of the pleasures of coming to Palomas is to eat in the Pink Store restaurant and to shop in the rest of the store. The granddaughter of Pete (Pete's Place) and Tilly (owner of one of the largest grocery-store farmacia combinations) is Yvonne. She is American educated, but has remained in Palomas to work her family's quite extensive business holdings. She travels deep into Mexico's interior to fill her store with arts and crafts from wood carvings to statuary, to hand-hammered copper pots, leather goods, clothing, furniture. One cannot be casual about the response one might have to Mexican handiwork. You will either love it or hate it. It is bold and colorful and brash.


Here are two interior shots of the store portion of La Tienda Rosa.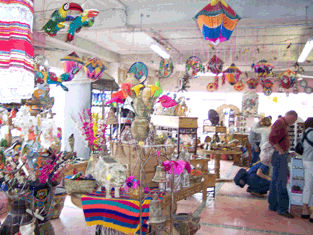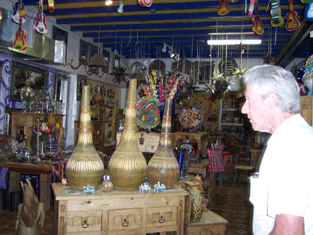 The next shot is of the restaurant. The food is traditional Mexican, and probably traditional border-town Mexican food. But there is an interesting twist to the food. Much of the cheese used in the dishes come from farther down in the State of Chihuahua from a settlement of Mennonites, who were asked to migrate to Mexico by the Mexican government and to take over the land vacated by Newspaper magnate Randolf Hearst.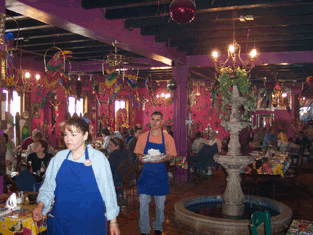 We usually try to eat lunch around noon or shortly afterwards, since the restaurant provides live music by a keyboardist, with a built in full band accompaniment. For a dusty little border town, he is quite good and plays a variety of American Pop and traditional Mexican tunes.
From the writer...a big thank you goes out to readers of this page who have added to the facts and information. This updated page now contains new links and new information, as well as the ability to click on any picture featured here to get a larger view.

Here's a tidbit from one visitor to Palomas searching for something beyond eye glasses:



Just got back from Palomas. Found that the eye doctor on the courtyard just beyond




the Pink Store (Miguel Garcia) does hearing aids also. I had an exam--he waived the




$20 cost of that. He suggested a pair of small 4-channel hearing aids for $1800,




but said the top of the line 16-channel would cost $3000/pair--that sounds like


about 1/2 the US price. Seemed competent and trustworthy.

Another reader writes about the Tarahumara woman in front of the Pick Store...
I have been to Palomas numberous times. The woman in front of the Pink Store is
Marcelina, her husband is Philippe. They have 2 teenage sons and live in a block
walled house with no running water or electricity, corroguated metal on the windows
and mud floors.

Marcelina does not beg

but sells her beads and open and closes the
door to store for visitors. Her husband Philippe is a brick layer that can only get
work occassionally. Marcelina's family and a number of relatives, about 17,
migrated from Chiahuahua about 2 years because of lack of food and work. Marcelina
is a very beautiful and trusting person with whom we have broken bread. About every
3 to 4 months, three of us old ladies, bring food and clothing down from
Albuquerque, our next trip will be in the middle of November.

Just added, December 29, 2006
I've just added a second page of pictures from Palomas, with a little information about each photo.

February 2007...
Telephone numbers for Palomas businesses:

Pink Store in Palomas: their stateside phone # is : Does anyone know?

Eye glasses/progressive lenses
(505) 544-1776 (stateside)
and Mexican phone #
011 52 656 666 02 72 (This number is apparently for Pharmacy or Optometrist.)


One can walk the streets of Palomas and discover surprises of many varieties, get glimpses into the interior of combination shop/homes, see through the iron gates into what must be the courtyards of wealthier residents. One can turn a corner and be in an entirely different venue from the main street.

At the heart of Palomas is the town Plaza, which is not fancy nor even well kept, but one can imagine that The Sixteenth of September celebrations are held here as well as Cinco de Mayo and Dia de los Muertos (Day of the Dead)...well, perhaps this holiday is held in the local cemetery. Here is my partner, Cliff in the Plaza.


Around the outside perimeters of the plaza are public restrooms, which cost 5 pesos to use, but there is an attendant on duty, and street vendors selling cold drinks, burritos, and other such fare. Turn around and face west, and the town's main church faces the plaza. After a lunch at the Pink Store Restaurant, we like to stroll to the plaza or meander the side streets. Street vendors selling everything from cactus candy to designer sunglasses will approach, often taking much time to let you try on pair after pair of sunglasses.

I don't know when the church was built, but as you can see it is as rustic as the rest of the town, no doubt built by the faithful.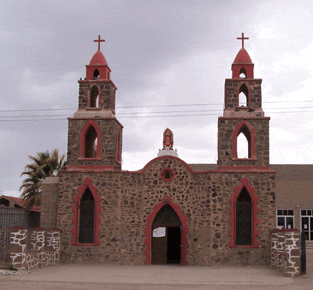 As we leave Palomas and head back into the United States with our bags of purchases, one is reminded of the history of 1916 with this dramatic statue of the town's obvious hero, Pancho Villa. One sees that he continues to ride through history.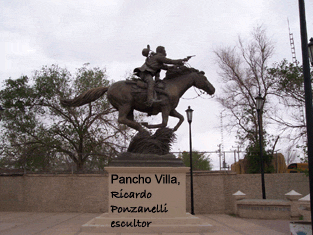 The sculptor (escultor) is Ricardo Ponzanelli.

Let me know what you thought of this presentation. Contact me here. Palomas is far away from the centers of culture of Mexico and of the United States. It is at least 100 kilometers from Ciudad Juarez, south of El Paso Texas, which is toward the east from Palomas. To get to Palomas, one can travel along a border highway from El Paso or travel south off Interstate 10, exiting at Deming, New Mexico, which lies 35 miles to the north.