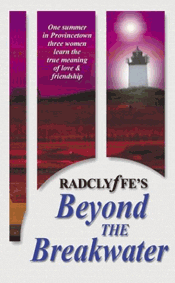 Beyond the Breakwater
By Radclyffe
Bookends Press http://www.bookendspress.com
2003/326 pgs/$18.50/
ISBN: 0972492658

The sequel to the bestselling Safe Harbor is an even more complex and hefty novel than its predecessor. After two years, Reese Conlon and Tory King have cemented their relationship, and they're ready to start a family. Meanwhile, Reese's protégé, Brianna Parker, has grown weary of college in New York but is fearful of losing Caroline's love. While Reese and Tory are much more mature and strong, Bri and Caroline are still less sophisticated, which lends a sizable amount of angst to the story when they move apart so Bri can go through police academy and field training in Provincetown with Reese.

With police work and the medical world as backgrounds, Radclyffe explores the lives of Reese, Tory, and Bri in a leisurely manner, providing a novel full of ups and downs, accidents, illness, misunderstandings, and life-threatening peril. The powerful relationships between family and friends are a major emphasis, and those who enjoy fairly graphic and frequent erotic scenes will not be disappointed. An entertaining read and yet another successful volume to add to the prolific Radclyffe's expanding oeuvre.


Faith's Crossing
By Carrie Carr
Yellow Rose Books
2003/190 pgs/$13.95
ISBN: 1932300120
In Carr's first installment of this series (Destiny's Bridge), Texas rancher Lex Walters rescued visiting Californian Amanda Cauble when her car was swept away by a raging flood. Despite obstacles, the two women fell in love and committed to one another. In this sequel, Amanda decides to move to Texas to live with Lex, but there's only one problem: her upper class family doesn't approve. They are wealthy and manipulative, and her parents aren't shy about their hostility. With such powerful adversaries, Lex is entirely unsure that Amanda will be able to withstand either the scrutiny or the temptations that the Caubles toss the young woman's way.
This story (which was originally coupled with Destiny's Bridge in one volume and entitled Destiny's Crossing) has been re-edited and broken out into its own volume. The edited improvements are notable and make this book a smooth, easy read which includes some funny scenes as well as some high drama. A classic type of romance recommended for lesbian readers who enjoy an occasional happy ending.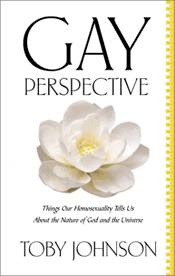 GAY PERSPECTIVE: Things Our Homosexuality Tells Us about the Nature of God and the Universe
By Toby Johnson
Alyson Publications http://www.alyson.com
July 2003/210 pgs/$14.95
ISBN: 155583762X

I don't tend to read a lot of non-fiction, and that which I do read I choose carefully. I am thankful I chose to read GAY PERSPECTIVE. This is a book full of hope and heart, and every person—gay or straight—would benefit from reading it. Toby Johnson, the author of the previous groundbreaking book, GAY SPIRITUALITY, takes his points from that earlier book one step further and delineates a careful examination of all the ways that an "outsider" perspective – such as a non-heterosexual point of view – allows for a unique and life-giving take on true spirituality, as opposed to old-time religion of superstition, fear, and exclusion. He includes chapters on how our homosexuality tells us things about: Life, Sex, Religion, the Church, God, and the World, and in so doing, weaves together a wonderful narrative about all the ways gay people can help society transcend ignorance and embrace true love and compassion.

In thoughtful, clear language, Johnson presents positive affirmation that the spiritual consciousness that gay people—indeed, all GLBTQ people—are now expressing is a vital and evolutionary step forward for everyone on the planet. No longer need we be trapped in meaningless, dogmatic, fear-based, or male-dominated religious practices. He writes, "It is not a negative, fatalistic, or materialistic secularism our homosexuality reveals to us, but a universe full of mystery, wonder, beauty, and magic" (p. 203). We "outsiders" have the opportunity to rise above that and lead the way for all people to a more loving, accepting, and spiritually fulfilling place.

Early on, Johnson says that gay men may find the book to be more about them than lesbians will. He indicates that since he is writing from the experience of a gay man, he doesn't assume to speak for women; however, as a lesbian reading this book, I found that the author accorded respect toward all women and advocated for a holistic and feminist view of relationships for all.

Author, psychotherapist, activist, and community organizer Toby Johnson is also a religious scholar and former Catholic monk. His experience and insight shine in this fantastic new book. I highly recommend it to anyone—gay or otherwise.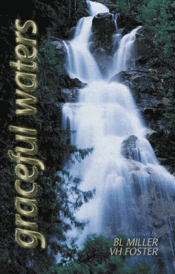 Graceful Waters
By B.L. Miller & V.H. Foster
Bookends Press/Address
2003/$18.50/306 Pages
ISBN: 0974092266
Grace Waters is a troubled, smart-aleck, 17-year-old juvenile delinquent apparently intent on harming others and herself. She's gotten so out of hand that neither her mother nor her step-father knows what to do with her. After assaulting a teacher, the juvenile court judge incarcerates Grace until her 18th birthday, which is six months away. Grace is too angry to care. She arrives at Sapling Hill, a kind of boot camp for juveniles, and it doesn't take long for her to realize that the camp instructors don't play by the same rules as the world outside the institution. By yelling, shaming, intimidation, and withholding of privileges, the instructors compel the teen girls to behave, and they suffer consequences when they do not. Surprisingly, Grace responds—in particular, she responds to the tough and relentless Instructor Carey, who sees something in Grace that the kid doesn't even know is there. But Grace's journey isn't going to be an easy one. She is hiding secrets that first must be lanced and healed, and the young woman is in no way prepared to share, not even with Carey for whom she gradually gains a caring and respect.
From the first pages, I was hooked. The narrative is fast-paced, the secondary characters are colorful, and the dialogue sparkles. Some of the events at Sapling Hill are quite amusing, and there is plenty of conflict between the teens. It reads like a cross between "An Officer and a Gentleman" and "The Breakfast Club," in other words, immensely accessible, seemingly light—but dealing with harsh realities under the surface. Grace's journey is compelling, and Carey's role in it is honorable. The relationships that Grace develops once she drops her guard enough to look around and open up feel truthful and real.
Miller and Foster have done an excellent job showing Grace's growth curve from age 17 to 19 or so as she learns to deal with the abuses she has suffered. The romance that eventually grows for her is a fitting end to her struggle. A book that is a lot of fun to read, this one is highly recommended.
AN INEXPRESSIBLE STATE OF GRACE
By Cameron Abbott
Alice Street Editions, a div. of Haworth Press
http://www.haworthpress.com
2004/218 pgs/$17.95
ISBN: 1560234695
After fifteen years, talented attorney Ashleigh "Ash" Moore's marriage is on the skids, and increasingly, she finds herself thinking of her only other love, a woman who broke her heart in college. Ash usually finds solace in her work, but when she's assigned a high profile corporate case that could make or break her career track to law partner, she doesn't count on the attraction she feels for the client's in-house counsel, sexy, intelligent Renee Silver. Then Ash receives legal papers from her long-lost father concerning the estate of her grandmother, and long buried family secrets begin to emerge. To top things off, she unexpectedly uncovers evidence of corporate ethics violations, which could put her in danger. Whom can she trust? Which secrets from the past will come out, and what about the powerful pull she feels toward Renee?
With deft characterizations, an engrossing plot, and a marvelous sense about the volatility of secrets, Cameron Abbott has crafted an terrific follow-up to her first novel, To The Edge. Because of the author's narrative skill, this fine sophomore novel will go directly to the head of the class.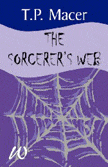 The Sorcerer's Web
By T.P. Macer
Wayward Books, http://www.waywardbooks.com
2000/296 pgs/$14.95/ISBN: 1903531004
Morgan, an enigmatic man on a mission requiring stealth and deceit, meets up with Adam Pell, a ranger closely allied with the royal family of Cardia. Pell is just coming out of mourning because an unexplained attack that led to the death of the entire royal family, to whom he is related. Meeting Morgan is like balm to his wounds. Unfortunately for Morgan, the two men feel instant attraction, neither being able to resist the other's charms. This isn't what Morgan expected; when his masters sent him out, it was with the explicit instruction that he was to kill a man named Adam Pell.
By horseback they continue on to the town of Garton where Morgan is to sign up with the rangers…and so begins the internal struggle Morgan deals with through much of the book. He's been trained and tortured all his life to complete this moment—this job of killing—but how can he do so when he has fallen in love with the lively Pell and even worse, come to enjoy and care for the very people who are supposed to be his enemies?
The story is of adventure, intrigue, mind tricks, and power games, all of which are set in a time and place that feels medieval, a time when kings still reigned and sorcerers still had power, though that power is slipping. Unbeknownst to Pell and Morgan, the fate of the kingdom is in their hands, but Morgan has been badly and sordidly used, and in order to avoid succumbing to the worst evils, Morgan must go through more than one dark night of his soul, as must Pell. Entertaining, interesting, also erotic. Recommended for those who enjoy gripping and gritty gay adventure.