All Issues of IGW are available here.




Other Book Review Sources...


Just About Write, a book review and writing magazine for lesbians.

Midwest Book Review, a book review magazine that includes glbt books.

The Gay & Lesbian Review, primarily a print medium. Submit essays, reviews, poetry, and letters:
To G&LR Editor, PO Box 180300, Boston, MA 02118

Echo Magazine is a biweekly, general interest LGBT news magazine whose mission is to provide Arizonans with information, resources and perspectives that will help build a stronger community. It is published biweekly, both in print and on the web. Under the Previews and Reviews section, you will find book reviews.



Writer's Resources...



Page 1

Page 2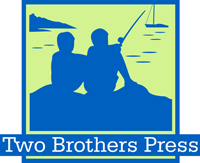 Two Brothers Press is now also an e-book publisher. Visit TBP for all your prepress needs, including editorial evaluations, professional editing services, typesetting. Join the growing number of writers who have gone on to publish their work.




From the Editor...April 2017

Columbus, Mississippi has a slew of arts, entertainment, and writers. In fact, since Columbus is the home of noted playwright Tennessee Williams, and famed author Eudora Welty is one of the town's icons of southern writing, one meets "writers" here all the time. I've attending readings and book signings for other local writers, and the Writer's Guild participated in one of the local bookstores open mic night, where several of us did readings from our ongoing or published work. One of the highlights of living here, for me, is belonging to the Columbus Writer's Guild. We meet every second Tuesday in the
Columbus Arts Council
Building on 5th and Main.
One of my regular writing habits is to continue posting articles on
Postcards from Mississippi
, a blog I created when I moved here. I hope you check it out. The most recent post is about the people of substance I just mentioned, as well as the gentle way in which February is giving way to March and how you can almost feel Spring pushing its way into winter.
Another of my regular activities is to attend the Writer's Guild writers' group at the Columbus Arts Council, every second Tuesday of the month. And as I meet more people and get settled into the social fabric of the town, I'm able to invite more people to the writers' group. Just this month, three new writers will be coming to the meeting.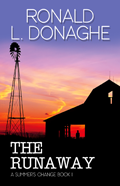 ON Sale NOW in Paperback!
A Summer's Change (Books i, ii, & iii)
by Ronald L. Donaghe
Publication Date: October 31, 2016
ISBN-10: 1537661949
ISBN-13: 978-1537661940
Price: $15.95
I know that many of my readers have waited years for this book to come out, but it turned into three books, to round out and finish the Common Threads in the Life series with a total of seven volumes, bringing the story up to 2015. In September of 2016, I brought all three books in the Summer's Change trilogy out on the Kindle, and then some readers wanted to know when the three books would be coming out in paperback. So here they are. In the next few months, I will be issuing new editions of the first four volumes in the Common Threads series, which include
Common Sons, The Blind Season, The Salvation Mongers,
and
The Gathering.
Why? Because now that the series is finished, I can rework the covers and formats of the first four books to thematically match the excellent covers of
A Summer's Change
.
Readers have mourned that the series is now complete. Some of them have asked me to continue the series, somehow, some way. My answer now is that I'm considering two side-car books of two of the newest characters that made their appearance in
A Summer's Change
. Hint:
Joe Welling and the Cowboys
and
Granny Mack and the Gas Station in the Middle of Nowhere
. I can already feel that the Granny Mack book is going to be both light-hearted in some ways but also a heavy treatment of transgender issues.
---
I'm still editing...
Yes, for many years, I've been in the business of editing books, as well as writing my own. If you have a completed manuscript, check out Two Brothers Press. Feel free to send information about your book to this email.

If you want a simple evaluation of 10 to 15 pages that goes into detail about the opening, plot development, character development, and even examples of recurring grammatical and technical errors, consider asking for an editorial evaluation. I will tell you, here, that I cannot predict whether or not your book will be a best seller.
















Books for April 2017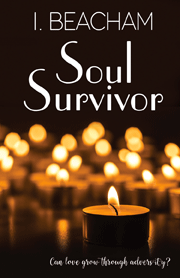 Soul Survivor
by I. Beacham
978-1-62639-882-5
April 18, 2017
$16.95
Contemporary Lesbian Romance
Internationally acclaimed American journalist Josephine "Joey" Barry is considered one of the most iconic correspondents of her time, having reported on major crises from many of the world's hotspots. But everything crumbles when rebel insurgents near the Syrian border attack and kill her team, forcing her to hide. Rescued but traumatized, she finds she can no longer cope with who she once was, breaking down on national television during a live political debate.
Sent to England to try to get her mojo back, her path crosses the Reverend Samantha "Sam" Savage, a charismatic vicar with an appetite for compassion and motor biking. Non-believer Joey is drawn to her, not knowing Sam is struggling with her own demons. Can their love grow through such adversity?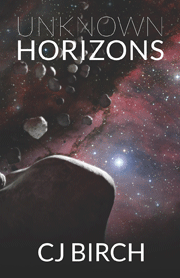 Unknown Horizons
by CJ Birch
978-1-62639-938-9
April 18, 2017
$14.95
Lesbian Speculative Fiction
The moment Lieutenant Alison Ash steps aboard the Persephone, she knows her life will never be the same. She will never again watch the sun rise over the asteroid belt, never again see Earth from a handheld telescope, and never again see her family.
In less than three weeks, the ship will dock at the Posterus and begin the most important journey humankind has ever undertaken. More important than discovering fire, creating language, or even abandoning Earth to live confined in biospheres among the asteroid belt over 100 years ago.
What Ash doesn't expect is that by keeping her recent memory loss a secret she is jeopardizing not only the Persephone's mission but humankind's launch of the first ever generational ship. Nor does she anticipate her attraction to Captain Jordan Kellow, but both will change her life forever.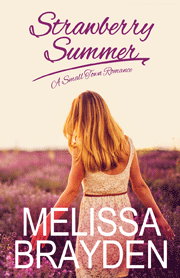 Strawberry Summer
by Melissa Brayden
978-1-62639-867-2
April 18, 2017
$16.95
Contemporary Lesbian Romance
Just because you're through with your past, doesn't mean it's through with you.
Margaret Beringer didn't have an easy adolescence. She hated her name, was less than popular in school, and was always cast aside as a "farm kid." However, with the arrival of Courtney Carrington, Margaret's youth sparked into color. Courtney was smart, beautiful, and put together—everything Margaret wasn't. Who would have imagined that they'd fit together so perfectly?
But first loves can scar.
Margaret hasn't seen Courtney in years and that's for the best. But when Courtney loses her father and returns to Tanner Peak to take control of the family store, Margaret comes face-to-face with her past and the woman she's tried desperately to forget. The fact that Courtney has grown up more beautiful than ever certainly doesn't help matters.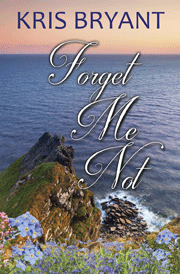 Forget Me Not
by Kris Bryant
978-1-62639-865-8
April 18, 2017
$16.95
Contemporary Lesbian Romance
When Grace Danner finds out her great-aunt has passed away leaving her a flower shop in Ireland, she is anxious to get it off her hands as quickly as possible. Her career with the most prestigious advertising firm in Dallas has her busy six days a week, and she doesn't have time to step away from her life to handle her aunt's estate. She plans a quick trip to sign papers and save family heirlooms, hoping to return home before the end of the week.
She meets real estate agent Kerry Mulligan who was consigned to the property quite by accident. Their relationship starts off rocky, and as much as Grace wants to get to know the red-haired Irish beauty in the short time she is there, Kerry is nothing but business. Can Grace break through Kerry's icy disposition and open her up to a quick affair? Even if Grace manages to seduce Kerry, can she return unscathed to the life she left in Dallas?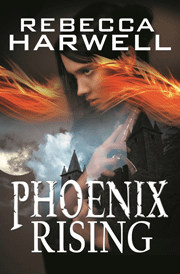 Phoenix Rising (The Storm's Quarry Series, Book 2)
by Rebecca Harwell
978-1-62639-913-6
April 18, 2017
$16.95
Lesbian Romantic Fantasy Adventure
The Iron Phoenix, the masked vigilante of Storm's Quarry, has not been seen since the solstice and the tragedy it brought. Haunted by nightmares and striving for control over her powers, Nadya Gabori watches from afar as the city struggles to heal, and Kesali, the woman she loves, works to rebuild their dream of peace.
A new masked figure has arrived in Storm's Quarry, the Shadow Dragon, one who can conjure blades of light. Nadya feels a powerful connection to her and begins to question if Kesali is the future she wants. When the neighboring Kingdom of Wintercress takes advantage of the city's weakness, it will take the strength of both young women to defend Storm's Quarry against invasion and save everyone they hold dear.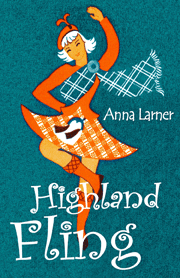 Highland Fling
by Anna Larner
978-1-62639-853-5
April 18, 2017
$16.95
Contemporary Lesbian Romance
Eve Eddison describes her ideal woman to her best friend, Roxanne, over pints in their local pub a few days before she travels to the Scottish Highlands. There she falls head over heels for an enigmatic local, Moira Burns, and the usually reticent Eve wants more than a holiday romance. Forestry officer Moira Burns has no intention of letting go—either of past pain or for present pleasure. If that means she misses out on her chance at happiness, so be it. Convinced Eve is headed for heartbreak, Roxanne advises her to let Moira go…but has Eve found her ideal woman at last?
From the breathtaking Highlands of Scotland to the buzz of a Leicester gay bar, family and friendship are tested to the breaking point, as letting go proves painfully hard.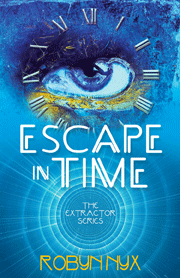 Escape in Time (The Extractor Series, Book 1)
by Robyn Nyx
ISBN 978-1-62639-855-9
April 18, 2017
$16.95
Lesbian Romantic Intrigue
An Extractor is elite in every way, and Landry Donovan is no exception. Pulsus, an organization working to build a better future by saving people from the past, sends Landry's team back to Nazi Germany to save a Jewish doctor working on a cure for cancer. For the first time on a mission, she's distracted by thoughts of a woman—the enticing basketball player, Jade Carter.
Jacqulyn Delaney, a Pulsus Operative, waits in a concentration camp for Landry's arrival. Her job is slowly messing with her mind, as is her desire to be more to Landry than just a friend with benefits. When an unexpected relationship blooms in Germany, it puts a new perspective on the future.
Can they save the doctor? Or will their personal demons leave them stuck in the past?"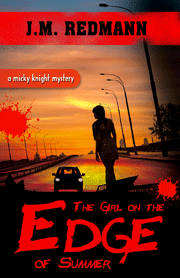 The Girl on the Edge of Summer (Micky Knight Mysteries, Book 9)
by J.M. Redmann
978-1-62639-687-6
April 18. 2017
$16.95
Lesbian Mystery
Micky Knight reluctantly takes on two cases, one for money, one for pity. The first is a trawl though archives to solve a century old murder, for an arrogant grandson who thinks riches should absolve his family of any sins. The other, to answer a mother's anguish as she tries to understand her daughter's suicide. Micky sees no happy ending to either case; the dusty pages of history aren't going to give up their secrets after holding them for so long. And even if she finds answers for the mother's questions, nothing will bring her daughter back. But as Micky discovers, the past is never past and a young girl can lead a complicated, even dangerous, life. The secrets, both past and present, are meant to remain hidden—only the first murder is hard. The rest come easy.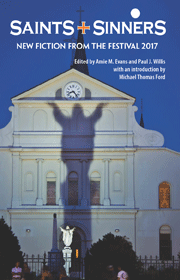 Saints+Sinners 2017: New Fiction from the Festival
ed. Amie M. Evans and Paul J. Willis
with an introduction by Michael Thomas Ford
978-1-63555-004-7
April 18, 2017
$18.95
LGBT Anthology
An anthology of short fiction featuring the finalist selections from the 2017 Saints+Sinners Literary Festival.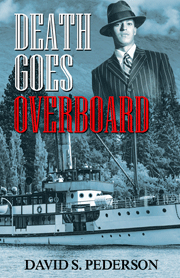 Death Goes Overboard
by David S. Pederson
978-1-62639-907-5
April 18, 2017
$18.95
Gay Mystery
Gregor Slavinsky went overboard. Or did he? He was murdered. Or was he? It's up to Detective Heath Barrington and his partner, police officer Alan Keyes, to find out as they search for clues and a missing twenty-five thousand dollars aboard an old lake steamer and throughout 1947 Milwaukee, Wisconsin.
They are up against gangsters, con artists, and a very seductive Grant Riker, a fellow policeman who could come between Heath and Alan, upsetting their romance.
The three of them race the clock to find the truth amidst lies, secrets, and possible scandal, while riding the waves of a potential love triangle.