Award-winning writer,

Lori L. Lake

reviews...

Susan Stinson's

Venus of Chalk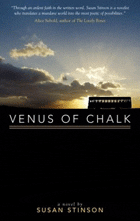 Venus of Chalk

By Susan Stinson

Firebrand Books, 2004
208 pg, $14.95
ISBN: 1563411377

Susan Stinson, author of FAT GIRL DANCES WITH ROCKS, has crafted another quirky and fascinating novel, this one about a woman named Carline whose seemingly well-ordered life cracks in two one night when she is accosted by cigarette-flicking young toughs. With her lover, Lilian, out of town at an important poetry slam, Carline has no one to help her deal with this new indignity, and she finds herself falling into an emotional whirlpool from which she doesn't know how to escape.

Carline is a woman of size – in other words, she is extremely fat. "Fat. It always came back to that… Vicious comments on the street, carefully worded references to 'professional appearance' in job reviews, suddenly masked looks on the faces of friends; at this moment, hatred was all I could see, all I could breathe, all I was" (p. 20). A crisis looms over her life.

Carline works as an administrator in a home economics program and specializes in pamphlets that help homemakers. Despite distributing information and assistance to women on five continents, Carline is dismayed that so few people pay attention to the details that are critically important to her. She is thwarted because "(p)eople who thought home economics was just pie crusts and vacuuming occupied every station in life; they outnumbered, perhaps, those who believed home economics no longer existed" (p. 15). In her own little home economics world, Carline has barely let into her consciousness the fact that her job doesn't seem meaningful, nor does much of her life. It is as if she has let her extra weight insulate her from true feeling, preventing any awareness to permeate and spur her toward needed change.

So when Carline is accosted by the young toughs and her fragile sense of self is knocked completely askew, she stews for a day. Then her aunt Frankie from Chalk, Texas calls to report the death of a dear friend. Carline quits her job, packs a bag, and takes off on a bus trip with two odd fellows, Mel, who usually rides the bus with her, and Tucker, the driver, who is taking the old bus across the country to Dallas where it can be auctioned.

The trip Carline takes is both internal and external, and little of it went at all like I expected. I don't want to ruin the surprises of the story, but suffice to say that there are several unexpected turns, each of which causes Carline to come closer and closer to confronting her own fears and pain and anguish. It takes her a long time to come to grips with the fact that she has "kept going under, shaking myself out of it, then falling again into fear and self-hate. The worse part was that it seemed so ordinary. I needed to stop" (p. 179). The tale of this journey "to stop" is filled with good writing, gold nuggets of description, and insightful narrative. The author has offered up a real jewel of a novel, featuring a character at times awkward, at times selfish, but ultimately compelling and sympathetic as she moves forward in her quest for understanding.

Stinson's previous novel, FAT GIRL DANCES WITH ROCKS, focused on a 17-year-old fat teen and her struggles with societal meanness about fat women and girls; VENUS OF CHALK takes on some of the same issues and expands upon them by showing a woman, several years older, dealing with the similar pain, misunderstanding, and self-loathing. The journey Carline takes, dealing with awkward relationships, past pain, and internalized homophobia (and fat-phobia as well), makes for an engrossing read. Do not miss this one. VENUS OF CHALK is one of the best books of the year.