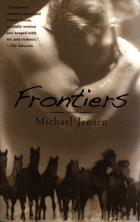 Frontiers


by Michael Jensen

ISBN 0-671-02721-2
310 pages, paperback



Frontiers

, by Michael Jensen, is an historical novel filled with adventure, suspense, steamy sex, beautifully described scenery, note-worthy characters to both love and hate…all woven together to tell a rich and interesting story. A riveting tale,

Frontiers

is told in the first person through the eyes of John Chapman, a young man with a strong sense of moral values, an endearing love of animals, and, despite all the hardships he has endured, compassion for his fellow man.

Using colorful language, Jensen paints a realistic picture of how difficult life was in the late 1700's for a sensitive young gay man, who has had so much grief and tumult in his life, that he wants nothing more than to settle down. Barely escaping death, Chapman runs for his life. He escapes the men who killed his lover; there was zero tolerance for "sodomites" in 1797. In his haste to avoid being killed or flogged, Chapman escapes without money, supplies, or a horse. Starving, and near frozen to death, he is rescued by Daniel McQuay, who offers him food and shelter, but not necessarily out of the goodness of his heart. Chapman manages to survive the long, cold winter, sharing a cabin with McQuay, but he senses something is not kosher with this moody, alcoholic man. As soon as he's able to escape, Chapman is on the run again.

History repeats itself. He is rescued from starvation and death, this time by a kind Indian woman, Gwennie. She deposits him in a new settlement, Franklin. Being welcomed into this new settlement represents a brand new beginning for Chapman.



Frontiers

takes place at a time when settlers were stealing land, left and right, from Native Americans. John feels compassion for the "Indians," and feels the other settlers wouldn't be any happier knowing he preferred men, sexually, than they would if they knew he had an Indian friend. He is indebted to Gwennie for saving him and giving him a real chance at happiness, and hopefully, permanence in his life

Jensen uses flashbacks of John's youth to recall events in his life. I thought this was an excellent touch. It allows the reader to understand John, and helps define his personality. We see why John becomes a wanderer—running away from problems instead of facing them head-on. John is tired of running; he just wants to settle down, be left alone and live his life as he sees fit. He is perfectly willing to give up personal relationships with men in order to avoid further trouble in his life.

Then he meets Palmer, a young man who shows interest in something more than simple friendship. John cannot deny a strong attraction to Palmer, and once again attempts to escape from his natural instincts. Can he avoid temptation or will he give in to love and desire? You simply must read this book.

What I liked best about

Frontiers

was how it grabbed me, enticing me to keep reading…I could not put the book down. The sexual tension in the beginning between John and Daniel was only appeased by reading further into the story. Jensen relieved the pressure so eloquently and completely, that the first love scene was not just memorable, it was HOT! I was pleasantly surprised when there were more erotic scenes further along in the story.

Frontiers

had me on the edge of my seat on more than one occasion and I couldn't read quickly enough to get to the outcome.

My only criticism, but I take it back now that I've finished the book, is that the first half of the book was peppered with so many metaphors and similes, that I actually started counting them. They're distracting, but by the second half of the book, I forgot all about them. Not that the similes weren't good; it made me wonder if that was the way people spoke in the 1700's, or if Jensen got carried away. (The author has since told me that more colorful language was used at the time the novel is set in.) Don't get me wrong about the first half, despite my mentioning the similes;

Frontiers

is incredible and exciting, with elements of fear, longing, hardship, and danger. The whole book is great, and if you like suspense and romance set in historic times, I cannot recommend enough that you should not miss this gem of a novel. I could easily see

Frontiers

as a new generation major motion picture, in the Gay/Western genre. Move over John Wayne—here comes John Chapman, Palmer, Gwennie and their story of how the west was won.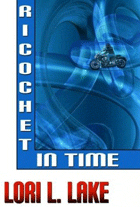 Ricochet in Time
by Lori L. Lake

ISBN 1932300171
308 pages, paperback

Award winning, best-selling author, Lori L. Lake, tells a riveting story in her acclaimed novel,

Ricochet in Time

. Lake's novel hits a raw nerve in its depiction of prejudice, homophobia, and gay bashing at its ugliest. It is a story of how tragedy and despair can lead to hope and love as a brave woman, Dani, with the help of newfound friends, fights back. The main theme of

Ricochet in Time

is, "What goes around comes around…you send love out into the world, and it comes back to you. You send out hatred and hell-fire, and it behaves just like a boomerang. It ricochets right back and hits you in the heart (p. 198)." One door closes for Dani, will another one open?

Danielle Corbett (Dani) and her new girlfriend, Margaret Lee O'Donnell (Meg), lives' are changed forever because they stopped at a bar along the road. They had been traveling by motorcycle in hot, humid weather, and after two hours they needed a break; they stopped to get a Coke. If only they hadn't, things would have been so different. The mere sight of these women provoked the locals, who took offense at having two "queers" in their establishment. One bigoted low-life forces them to leave. He doesn't think "perverted dykes" have the right to be in his presence. Dani and Meg leave, but not without a fight. Thus, begins the masterful storytelling Lake is best known for.

Left for dead by their basher, hikers witness the accident and rescue Dani. Hurt, alone, with little money, and no place to go, Dani's impulse is to run. She has always run away from her troubles. The only thing keeping her from running this time is her medical condition. Dani has to heal first—physically and mentally. She has to come to terms with Meg's death, figure out where she is going to live, and what she is going to do with her life. After her mother's death, Dani and her brother were raised by a homophobic, abusive, and alcoholic father. Growing up under harsh circumstances, she developed a tough outer shell, but inside she is a sensitive, caring woman who only wants to love and be loved.

Hospitalized at a very vulnerable and lonely time in her life, Dani meets a physical therapist, Grace Beaumont, who is interested in Dani for reasons she doesn't reveal. Grace's great-aunts, Estelline, and her partner, Ruth, take Dani into their home and hearts. They feed her starving body, as well as her mind and soul. What started out as Ruth's desire to get the story of the bashing for

The Purple Paper

, and to help the gay community fight prejudice and hate crimes, ends up to be so much more. Dani becomes an important part of Grace, Estelline, and Ruth's lives. The women become very special to Dani too.

The heart-warming, committed, and loving relationship between Estelline and Ruth sets a perfect example of two soul mates who remain together through thick and thin; they have weathered many storms and have become stronger because of it. The older women are role models for the younger women. Can Dani and Grace achieve what these two women have?



Ricochet in Time

grabs you from the first page and doesn't let go. The story flows so naturally that you don't feel like you're reading a book. You are there, living through the circumstances along with the characters, who come to life on every page. Lori L. Lake is a masterful storyteller. What I love most about Lake's novels is how much I care about the characters and what happens to them. Even with Dani's rough-around-the-edges exterior, you can't help but love her. She comes across as a strong woman who can fend for herself against all odds, but this is her coping mechanism. Through Grace's eyes, you see the good more clearly and you find yourself rooting for more than friendship between Dani and Grace. Lake writes with such clarity and imagery that her description of the pain Dani suffers from the accident is palpable. The author, insightfully and eloquently, went inside her characters' heads, making the story that much more believable. You know exactly what and how the characters are feeling at any given time.

I highly recommend Lake's debut novel,

Ricochet in Time

. This talented author of the best-selling novels,

Stepping Out: Short Stories

,

Different Dress

,

Under the Gun

,

Gun Shy

, and

Ricochet in Time

, is "considered one of the best authors of modern lesbian fiction," according to

Lavender Magazine

, " but her work—part action, part drama, and part romance—gleefully defies categorization." I couldn't agree more.