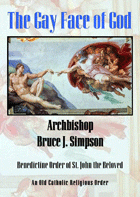 The Gay Face of God

By Archbishop Bruce J. Simpson, Benedictine Order of St. John the Beloved, an Old Catholic Religious Order

Paperback, 258 pages
Third Millennium Publications, 2004


"Unless progressive and prayerful men and women are able to fight for the right of all to be left alone in God, the trend towards hate and violence based on incorrect biblical interpretations will only grow."


* * *



Archbishop Simpson's passionate memoir is an engrossing life story that begins in late 1953 and travels through the next fifty-one years from the tribulations of childhood to tentative triumph. Why tentative? Many will agree that the Archbishop's personal story is an indisputable triumph of the human spirit. This autobiography is also a front-seat view into the compelling history of a generation of LGBT Americans who rose up and challenged the homophobic bigotry and injustice in our country. Yet Archbishop Simpson also emphatically reminds us that, even today, "we have not only religious fundamentalism in the Middle East to fear, but our very own home-grown, full-fledged, whip me with a chain, pull out the toenail fanatics that would burn your house down as soon as spit in your eye. Many hate-groups...have at their core a fervent Christian fever lapping at their sheets and armbands."

Simpson was born in 1953, the progeny of a violent rape. His single mother, Ruth, both worked and raised him while they lived with his grandparents, Edith and Harry, and his uncle, Norman. Simpson's childhood was not idyllic; his mother and grandmother often fought and his uncle was a violent drunk. His mother eventually married when he was 14 and the family moved to Allentown, Pennsylvania. Yet he had still "not achieved even a modicum of mental stability," due to problems in his mother's marriage. He became a troubled, angry adolescent. By the age of 16, he found himself in juvenile court for burglary, but was fortunately not charged. Simpson dropped out of high school when he was 17 and earned his diploma by attending night school.

Given his background, Simpson seemed on the low road to a disastrous adulthood, but his decision in 1970 to enlist in the United States Naval Reserve proved pivotal. Some thrive in military life, and Simpson was one of them. After a brief stint in the Navy, he enlisted in the U.S. Air Force midway through 1971. He chose the Security Police as his specialty field and served with distinction in numerous commands. By the end of 1973, however, the Office of Special Investigations (OSI) made him the subject of an inquiry to confirm whether he was gay. Throughout the 70's and 80's, the military conducted their own version of the "Salem Witch Trials" in its efforts to expunge gay people from the ranks. After adept legal maneuverings on Simpson's part, the OSI halted their investigation. Simpson's commanders gave him his pick of assignments and he selected a fighter base located ninety miles north of London, England.

Ironically, a medical problem he experienced while serving in England became the catalyst that propelled Simpson out of the Air Force. While recuperating in the local military hospital, he met a nurse and the two became briefly involved. What this nurse said to him changed his life: "Hell Bruce, you just need someone to love." Simpson had known he was gay for many years, but never realized until that moment that he longed for "tenderness and intimacy." So, after successfully defending himself against the OSI investigation just months earlier, Simpson realized that, as much as he loved the Air Force, he desired to live his life openly. He became the first gay man to be discharged from the American military without any notations about his sexual orientation in his military records.

After leaving the military in 1974, Simpson moved back to Pennsylvania and worked in law enforcement until he met his life partner, Jack, in 1975. In 1976, the couple moved to Manchester, New Hampshire but discovered that they preferred more temperate climates. They moved to Florida in 1977, where Simpson enrolled at the University of Central Florida in the paralegal program. He earned a B.A. in 1981. During that time, Simpson became involved as a political activist advocating for the LGBT community. He helped Chief Assistant State's Attorney Lawson Lamar win election for Orange County Sheriff by serving on Lamar's campaign staff and helping deliver the gay vote. During that election, Simpson also ran for and was elected to the Orange County Democratic Executive Committee. At the time, he was 27. He and his partner later moved to Prince Georges County, Maryland, outside of Washington, D.C., where he continued to work in law enforcement for several years. He was named Police Officer of the Year by the American Legion in 1984, shortly before he entered the seminary.

Archbishop Simpson first heard the call to ministry in his early twenties. With the aspiration to be ordained in the Roman Catholic Priesthood, he entered Mount Saint Mary's Seminary in Emmitsburg, Maryland in 1984. He served his first summer internship at St. Matthew's Cathedral in Washington, D.C. Simpson was then transferred to Theological College at the Catholic University of America for his second year of study. The Roman Catholic Church brutally interrupted his aspirations to become a priest after he naively came out during his yearly formal review. Disconsolate, Simpson returned to secular life, working again in law enforcement and for the federal government, until he discovered the Old Catholic Church in early 1995. He was ordained as a deacon on December 9, 1996, was ordained a priest on July 13, 1997, and was subsequently consecrated a Bishop on January 30, 1999. As the Archbishop of the Benedictine Order of St. John the Beloved, he now dedicates his episcopacy to serving all who have been wounded by religion, but especially the lesbian, gay, bisexual, and transgendered community.

In its latter chapters,

The Gay Face of God

also doubles as a religious discourse. Archbishop Simpson includes a fascinating history of the Old Catholic Church and its theological doctrines. Rome originally granted local autonomy to the Church of the Netherlands in 1215, but that autonomy was challenged throughout the Counter-Reformation. Catholics in Holland finally secured permanent autonomy when they dissented and rebelled against Rome in 1870 over the issue of papal infallibility. Known ever since as the Old Catholic Church, this denomination has "sought to adhere to the original beliefs and practices of the catholic church of the post-apostolic era."

The most emphatic of Archbishop Simpson's theological discussions is his interpretation of the Terror Texts in the Bible. We cannot be reminded enough, in the face of concerted efforts by the Radical Religious Right to convince the public otherwise, that the Bible simply does not condemn sexual minorities. In addition to his theological arguments, he also provides an elegant Holy Union Rite adapted from the late John Boswell's, Same-Sex Unions in Premodern Europe.

Like some self-published works (my own included),

The Gay Face of God

could use a bit more editing, but this observation should not deter the reader from appreciating Archbishop Simpson's profound and substantial accomplishments. We are blessed to have women and men of faith, like Archbishop Simpson, who speak the voice of reason and truth; who are still willing to confront the unchecked religious bigotry in our country today.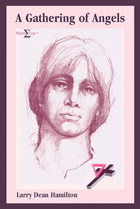 A Gathering of Angels

By Larry Dean Hamilton

Hardcover, 226 pages
Sigma Logo Books, LLC, 2004

"The general's arm begins a slow arc from his side, riot stick in hand. His stiff arm in a rearward motion begins to rise, a motion I perceive will terminate above his head, the stick leading forward. I grip JC's arm, 'We'd better step back from here.' Caught in the excitement, he makes no move to retreat...I dig fingers into flesh and spin him round, 'Move, JC! Now!' The riot stick reaches an apex above the general's head. A terrible, terrible sound barks through darkness. Charge!"



A Gathering of Angels

is much more than an autobiography. It is a potent, riveting, and brutally honest tale about the journey of one man's soul. In his spiritual memoir, Larry Dean Hamilton welcomes us into several periods of his life where we discover what being gay, and coming out in the late sixties and early seventies, meant to him. In

A Gathering of Angels

, Hamilton pours out his dreams, hopes, love, and loneliness with mesmerizing stories colored with irony and rich detail.

Hamilton begins with a dramatic narrative portrayal of the ambush riot that police unleashed on ACT-UP's protest march to the Houston Astrodome during Bush the Elder's 1992 Republican convention. It is unfortunately shocking to be reminded that, even at this point in the history of our movement, the civil rights of LGBT people were so cavalierly disregarded, and violently assaulted. He then flashes back to his grade school and high school years in Bay Prairie, Texas, and poignantly shares with us the painful alienation of his youth. Many will identify with the torment he experienced from being singled out by his peers as "different" before he'd even begun to understand why he felt different.



A Gathering of Angels

focuses mostly on Hamilton's college years in Austin, Texas. Hamilton "came out" while in college. And, although his is primarily the story of a gay man's coming-out journey, he candidly shares with us what was also his college experience. For that reason, many young adults today will also identify with his youthful exuberance and curiosity, his thirst for life, and even his comical misadventures. Hamilton introduces us to a captivating cast of characters: Jim, his ostensibly straight roommate; Jackie, a freshman year pal with whom he brazenly walked out of a final test review lecture…the professor had the last laugh in THAT incident; Scott, a.k.a. Winnie, Winnie-the-Pooh, Teddy Bear; Joseph, the nervous queen with the "pompadour" hair; Mother Ferrel, the literally loony dormitory monitor, and many others. I laughed hysterically as he related how he and his dorm mates decided to welcome Joseph with a mock necking session on the unsuspecting young man's first visit to Jim's and Larry's room. And, I later read with horror as Hamilton related his rape at the hands of a gay couple he'd brought home for a threesome...only to find myself on the verge of tears as he recounted how his roommate, Jim, cared for him afterward with tenderness and compassion.

While reading, I was often astounded to remember that most of the events included in

A Gathering of Angels

took place before the Stonewall riots: Hamilton's first visit to "The Cabaret", THE local gay bar in Austin at the time, occurred the night of the same day President Kennedy was assassinated. Judging from the openness with which he seemed to lead his life, readers might conclude that Hamilton was coming of age during the "Gay Nineties," but he wasn't. These days were PRE-Stonewall. "

PERVERT SWEEP, QUEERS CAPTURED

," read one local headline. Incidentally, Hamilton missed the Stonewall Riots by hours: he was living in Manhattan by then, and had visited the inn on his way to the airport for a weekend jaunt to Houston.

One might also observe after reading this book, however, that in spite of the growing social and cultural acceptance we seem to have gained during the last thirty years, so much else remains unchanged after the past three decades. During the late sixties, Hamilton was actually ejected at bayonet point when he came out during his U.S. Army pre-induction in New York. Gay servicemen and servicewomen living through "Don't Ask, Don't Tell," might understand THAT experience. Gay men and women today still have to struggle with finding self-acceptance, and with fighting institutional discrimination and religious-based bigotry.

A mystical strand also runs through

A Gathering of Angels

. Throughout the book, Hamilton relates several visionary experiences that ultimately helped him understand his yearning for love and his search for meaning in his relationships. This concept sometimes seems absent in gay encounters today. For Hamilton, the principle of Love is transcendent.

At the end of his elegant, complex, and well-crafted memoir, Hamilton brings us back to where he started…the police action in Houston, Texas. The ACT-UP demonstration, and the scenes that flashed across television sets across the nation during that week in 1992, played their own small part in unseating Bush the Elder:

"The legion comes quickly, a dark force, manner grim. They set about their work methodically. They bludgeon the boys on the ground. I see this clearly, from above, from behind my body running wildly across the grassy lawn. Boys felled to the ground, begging for mercy, bludgeoned; boys pleading, arms up stretched, bludgeoned; boys crying out where they lay helpless, bludgeoned; a slaughter of seal pups—bludgeoned."

Whenever a person tells their truth, they empower others to do the same. And "Deano" has told his truth…his stories drip with truth. As I walked his journey with him, I laughed with him, I loved with him, and I wept with him. Poetic and well written,

A Gathering of Angels

is one of the best books I've ever read. It was a revelatory experience.