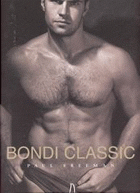 Bondi Classic
by
Paul Freeman
Hardback, 235 pages, $49.95
Cowboy Mouth Publishing (2003)
Sydney Australia
ISBN: 0975143905
Australian photographer Paul Freeman, particularly well known for his work exhibited in the luxurious international portraiture magazine blue, has created the first solo book of his superbly evocative photographs of heroic male nudes filmed both in the studio and along the rugged and spectacular Australian coastline. The stunning Bondi Classic may well be the most exquisite book of male nude photography produced this year.
In a brief, but fascinating introduction Freeman traces his inspiration for his masterworks of portrait photography from his early introduction to religious and classical art via Irish Catholicism. In particular, he was influenced by masculine images of the Roman soldier Saul on the road to Damascus, the paintings of the martyred St. Sebastian, and the sensuality found in religious works of art by such revolutionary masters as Caravaggio (1573-1610). As a boy who was already developing an eye and appreciation for art, Freeman was especially drawn to the idealized heroes of Herculean men who paradoxically also evidenced a near-feminine sensuality and openness. His allusions to classical and religious art are unmistakable. Later in his life, when he chose photography as his art medium, Freeman was greatly influenced by the genius of photographers Leni Riefenstahl, Bruce Weber and Herb Ritts. But, make no mistake. The epic photographs found in Bondi Classic are clearly and solely the result of the genius of Paul Freeman. He definitely has his own unique vision of classical masculine beauty.
The many formative influences come together in this monograph of rugged, heroic men in magnificent nude portraits. Freeman eschews the exclusive use of male photographic models. The striking men in Freeman's photographs include actors, sports heroes, Olympians, and models who exhibit an incredible sense of freedom even when dressed in Roman gladiator garb and boldly thrusting forth swords while being photographed in the studio. There is an indelible sense of masculinity that pervades all of Freeman's art. Moreover, in addition to the very great specimens of manhood Freeman displays in Bondi Classic, he adds the awesome beauty of the Australian coastline, volcanic rock formations, rain forests, and the wide open seas as an added bonus. It is a combination not to be missed.
The influence of Leni Riefenstahl is especially apparent in the fluidity of movement Freeman captures in athletes in motion. His nude divers seem to belong to the world of flight and are made to appear capable of defying the laws of gravity. His swimmers crash into the Australian surf with incredible visual beauty. The athleticism of the heroic models is paramount whether they are subjects with primitive spears, entangled wrestlers, or gutsy boxers. Yet, in the same moment, Freeman is just as comfortable showing the identical spear thrower passionately and sexually intertwined in the arms of another handsome man. Although the artist's subjects are clearly posed, there is an exceptional sense of freedom, independence, and lack of restriction in every image. The masculine self-determination is always foremost.
While the vast majority of the models exhibit full frontal nudity, Freeman is a master of eroticism that is demonstrated through the portrayal of models who are partially covered with seaweed and loincloths or who are photographed from positions that obscure their genitalia. The latter photographs are among the most sexually-charged images in the book. A perfect example is the color plate #225. Freeman's seemingly spontaneous image portrays a masculine figure, photographed from behind, diving into an ocean wave. The perfect symmetry of the manly body, the ideal back, buttocks, legs, and feet are not only a representation of the human body form as perfect natural sculpture, but the excitement of a man merging with the sea to become one with nature is astonishingly arousing.
Freeman's faultless eye for varying perspectives is also dazzling. His subjects are photographed from every conceivable angle and virtually every natural position. The awesome manliness of the subjects is amazing; their maleness is palpable and breathtaking. The varied racial make up of Freeman's models is still another added attraction.
The production values of the book are superb. Bondi Classic is exquisitely designed and presented as a large-format, 240-page hardback volume with a black-and-white cover photograph featuring ruggedly handsome, hairy-chested Aussie swimmer George Moneta. The dazzling photographs are reproduced on extra heavy art paper. Most of the photographs are black-and-white, but 20 stunning full-color plates are included. Although the predominant subject matter is masculine, the volume includes four male and female nude studies that are splendid. An index identifies each model by page number.
Freeman's work is first published Down Under, but Bondi Classic is widely available in the U. S. through gay bookstores, fine photography outlets, and online resources such as Amazon.com. Fortunately, at least two more solo books by Freeman, Bondi Urban and Brad X are due out in the coming year from his publisher, Cowboy Mouth. Interested readers can preview these forthcoming books as well as observe selected images from Bondi Classic at www.cowboymouth.com.au.
It seems ironic that mainstream society has universally determined that nude photographs of women represent art while photographs of the male nude are classified as pornography. The discrepancy has gone far beyond mere esthetics. Photographs of male nudes have been (and remain in some places) not only illicit but illegal. Time and again throughout the past century, the irreplaceable photographic prints and negatives of great photographers such as Wilhelm von Gloeden and Alonzo Hanagan (known as Lon of New York) were destroyed by soldiers or the police and their art works were irrevocably lost to the world. Even today it is socially acceptable to have a photographic monograph, complete with a provocatively posed female nude on the cover, by an artist such as the late Helmut Newton displayed on the living room coffee table while it remains unacceptable to provide equal space for a book by Robert Mappletthorpe. (Incidentally, the highest sale price for a book in the twentieth century was $304,000 paid at auction in 1999 for copy #1 of Newton's book Sumo that boldly displays a female nude on its cover.) The beauty of both the bookmaking and the splendid contents just might make Paul Freeman's photographic creation the crossover volume needed to give male nudes an equal place in the world of art. Bondi Classic may even make it to the coffee table, side by side with Sumo, and that is precisely where it belongs.
Jerry Flack, Denver, Colorado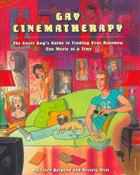 Gay Cinematherapy: the Gay Guy's Guide to Finding Your Rainbow One Movie at a Time

by

Jason Bergund, Beverly West

256 pages, paperback $15.95

Universe Publishing (2004)

ISBN: 0789310546



The key to enjoying and understanding Gay Cinematherapy may be found in its opening line, "The Oscars aren't just an awards show but the Gay Super Bowl." Co-authors Bergund and West contend that the movies are a gay man's best friend and that the local video store has the perfect film to satisfy virtually every mood or circumstance.

The cover blurb promotes the collaborators of this confection as a real-life "Will and Grace." He is gay and she is straight and they are more than just best friends and writing partners. They share a Manhattan apartment and joint custody of a pug named Elvis. They even mutually invite email communication at "gaycinematherapy@aol.com."

Bergund is new to the "cinematherapy" scene but he is a must as he provides the authenticity and verisimilitude required for this project about cinema as therapy for gay men. West (along with co-author Nancy Peske) apparently invented cinematherapy books. Her popular culture therapy books have sold 250,000 copies and include such titles as Cinematherapy for Lovers (2003), Cinematherapy for the Soul (2004), and the forthcoming Cinematherapy Goes to the Oscars (November, 2004) as well as Culinarytherapy (2003) and Bibliotherapy: The Girl's Guide to Books for Every Phase of Our Lives (2001).

Now, West teams up with her gay roommate Bergund to suggest cinematherapy to cope with ostensibly every issue or crisis gay men are likely to encounter in a lifetime. Their therapy tools are found in both gay-themed and mainstream films as well as classic and contemporary movies. They explore dozens of films through ten chapters devoted to such gay issues and topics as coming out of the closet, drama queens, inspirational activism, and "We-Are-Family" solidarity.

Along with the short, pithy categorized movie reviews, readers are also treated to added bonuses such as Jason's Barmacy that includes perfect cocktails (e.g., "Truth Serum" made with orange vodka and Rose's lime juice) as well as hangover cures. Another of Jason's contributions is labeled "Sugar Shacks – The Man Candy Counter" and features profiles of movie hunks including John Travolta, Brad Pitt, and Laurence Fishburne. These vignettes describe the sex appeal quotient of each star along with a list of his best films.

"Bev's Hideaway and Launderette: Fabric Softeners for the Soul" is another featured indulgence in which the author-therapist provides unique recipes for the Betty Ford Recovery Facial, a magic potion for the elimination of puffy eyes, and the use of body jewelry. "Audiotherapy" consists of songs from films that fit every therapeutic need from Judy Garland's "Trolley Song" and Gloria Gaynor's "I Will Survive" to Alicia Bridge's "I Love the Night Life."

Gay Cinematherapy is filled with weird and wacky facts that fly under the heading "Reality Check" and that are endlessly fascinating and occasionally heart-breaking. On the weird side, readers learn that the white Ford Janet Leigh drove as the character Marion in the movie "Psycho" (1960) was exactly the same car driven by Ward and June Cleaver in the television series, "Leave It to Beaver." Far more tragic notes inform readers that four of the stars of Hollywood's first big-time gay flick, "The Boys in the Band" (1970) died of AIDS, and 53 gay actors who appeared in "Philadelphia" (1993), the first Hollywood film treatment of the deadly AIDS virus, died of the disease within one year of making the film.

No gay movie book would be complete without tributes to the cinematic divas Barbra, Judy, Madonna, Joan Crawford, and both Bettes (Davis and Midler) that gay men supposedly worship. Indeed, an entire page is devoted to some of the great lines Bette Davis recited in her role as Margot Channing in "All About Eve" (1950). Great quotations from film scripts are distributed throughout the book, most often following a capsule description of the film in which they were spoken. A good example is Terrance Stamp's famous line as Bernadette in the screenplay for "The Adventures of Priscilla, Queen of the Desert" (1994). "Being a man one day and a woman the next is not an easy thing."

The core of the book consists of the dozens of movie reviews that follow a set format. Each entry includes the title and date of the film as for example "Misery" (1990), plus its stars (Kathy Bates, James Caan), the director (Rob Reiner), and writers (William Goldman based on a novel by Stephen King). An overview of the film is provided and its relevance to gay themes and issues is projected and frequently followed up by a feature titled "Rants and Raves" such as when Kathy Bates states, "Now the time has come. I put two bullets in my gun. One for me, and one for you. Oh, darling, it will all be so beautiful."

The reviews are not automatically favorable. In particular, Bergund trashes the U.S. version of "Queer As Folk" (2000) due to its portrayal of gay life as circuit boys behaving destructively. He also notes that he grew up in Pittsburgh and he never once saw anything resembling the soundstage in the film.
The majority of the movies reviewed are Hollywood features, but some made-for-TV films such as "Queer As Folk" (2000) and "And the Band Played On" (1993) are included as are foreign releases such as "Billy Elliot" (2000) and "The Adventures of Priscilla, Queen of the Desert" (1994). Documentaries are incorporated that truly range from the sublime to the ridiculous, two cases in point being the Oscar-winning "The Times of Harvey Milk" (1984) and the unbelievable "The Eyes of Tammy Faye" (2000), a tribute to Tammy Faye Bakker, starring the latter along with RuPaul. The reviewed films also range across at least six decades of cinema that contain messages and therapy for gays. The movies range from the 1939 classic "Wizard of Oz" to "The Hours" and "Camp" both made in 2003.

As witty as Bergund and West are in Gay Cinematherapy, their book makes a serious and relevant point about shopping for just the right motion picture at the video store. When GLBT movie fans head for the local Blockbuster or gay video store, they do not take along the latest DVD/Video Guide by Roger Ebert, Leonard Maltin, or Jim Craddock's Videohound's Golden Movie Retriever, all of which reveal the plot and vital statistics of films (directors, actors, writers) plus toss in critical commentary. Far more often, customers are looking for films that fit their moods at the time. Perhaps they need an uproarious comedy to bring some much-needed laughter into their lives, or maybe they are in the mood for an inspirational film such as "The Times of Harvey Milk" (1984) or just plain trash like "The Valley of the Dolls" (1967). On still other occasions, viewers may be seeking a scary Hitchcock classic that is guaranteed to produce goose bumps. The vital difference between guides by Roger Ebert and company and Gay Cinematherapy is that the films listed in the former are supposed to extend viewers' cinematic education whereas Bergund and West have deliberately produced a guide to meet the emotional needs of gay movie fans on any given night at home in front of the screen.

Gay Cinematherapy is intended to be fun and it unquestionably meets that criteria, so it is perhaps unfair to level Kathy Bates' famed gun in the direction of the co-authors, Bergund and West, but their book is not without flaws. Chiefly, the sin is one of omission. Why, for example, do they choose to review "Beaches" (1988) and ignore "Big Eden" (2002) and "The Broken Hearts Club" (2000)? Why feature "The Birdcage" (1996) rather than the far superior original, "La Cage aux Folles" (1979)? The recommended films about coming out of the closet are fine, but none of them are as superb as the omitted "Get Real" (1999). A sampling of other missing gems includes "For A Lost Soldier" (1993), the British original of "Queer as Folk" (2001), "The Wedding Banquet" (1993), "All Over the Guy" (2001), and even the often criticized Kevin Kline vehicle, "In and Out" (1997), but the most inexplicable omission of all is the landmark gay film "Longtime Companion" (1990).

Bergund and West have created an enjoyable compendium of remote control remedies for almost anything that is itching the gay man's psyche on any given night and they are to be applauded for that. Gay Cinematherapy: The Queer Guy's Guide to Finding Your Rainbow One Movie at a Time does belong in the film library of gays, but another scholar needs to create an updated study of GLBT films including the exceptional movies Berglund and West do not review here plus such new classics as "The Trip" (2002) and "Latter Days" (2004). Hopefully, such a book will also profile REAL GLBT performers who are out of the closet rather than the Hollywood straight men such as Kevin Kline and Tom Hanks who win acclaim for portraying gays while legitimate GLBT artists remain unemployed. Perhaps it is just too cruel to be so judgmental, but Julia Roberts will never be a convincing Gertrude Stein. Gosh, are there no other GLBT performers in the world of cinema other than Rupert Everett, Ian McKellen, and Ellen Degeneres? Gay Cinematherapy will do until the real thing comes along, but here is hoping the matching book end, the one about real GLBT cinema and its stars, will soon be published.

Jerry Flack, Denver, Colorado